CSG East's 2022 Annual Meeting
Dear Colleagues,
We invite you to CSG East's 61st Annual Meeting and Regional Policy Forum, August 14-17, 2022, in Manchester, New Hampshire.
The theme of this year's meeting, is States in Transition. As we emerge from the recent pandemic, what have we learned, and how will we move forward?
Join us for three days of discussions with your peers at the largest gathering of state officials in the East. All of CSG East's policy committees will meet to discuss critical issues affecting the region in the areas of agriculture and rural affairs, Canada-U.S. relations, education and workforce development, energy and environment, fiscal affairs, military and veterans affairs, territorial relations, and transportation. CSG East's Council on Communities of Color will also meet.
Registration is open! Please review the General Information and Agenda pages for additional information. Register now!
Please contact CSG East at ercannualmeeting@csg.org if you have any questions. Please mark your calendars now! We look forward to welcoming you in person in Manchester August 14-17, 2022!
Sincerely,
Senator Sharon Carson, CSG East 2022 Co-Chair
Senator Lou D'Allesandro, CSG East 2022 Co-Chair
---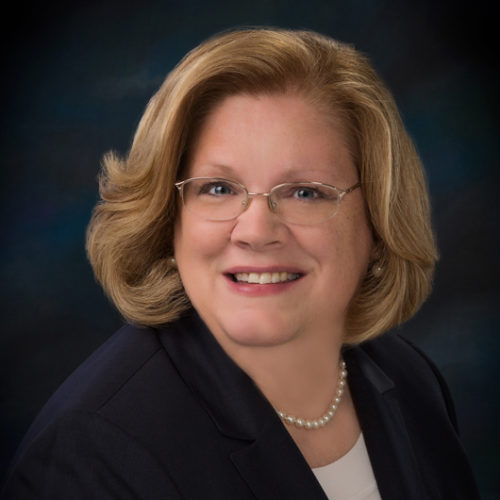 Sharon Carson
CSG East 2022 Co-Chair; Senate Majority Leader, New Hampshire
Sharon Carson has been in the New Hampshire State Senate since 2008. Before becoming senator, she served as a state representative from Londonderry from 2000 until 2008. She also served in the U.S. Army and the Army Reserve and retired
...
in 1995 after 17 years of service. Sharon has an A.S. degree from Mount Wachussett Community College, as well as a B.A, M.A., and A.B.D from the University of New Hampshire. Sharon is an adjunct professor at Nashua Community College. She has also taught at the University of New Hampshire and at the University of New Hampshire at Manchester as an adjunct professor after completing her postgraduate studies. She also served on the Rockingham County delegation's executive committee for two terms and was the chair of the Registry of Deeds. Sharon and her husband, Greg, have been married for 37 years and have two daughters, Alicia and Deirdre. They have lived in Londonderry and the State of New Hampshire since 1989. Greg is a New Hampshire native. Senator Carson has a deep passion for the state that she serves. She loves New Hampshire and its rich history; she shares her knowledge of the early settlers and the stories of Nutfield and Portsmouth, and has a deep respect for the people she serves.
Read More
Lou D'Allesandro
CSG East 2022 Co-chair, CSG 2019 National Chair; Senator, New Hampshire
Lou D'Allesandro has represented the 20th District in the New Hampshire Senate since 1998. He currently serves as chair of the Finance Committee and vice-chair of the Ways and Means and Capital Budget committees. He previously served three terms as
...
an executive councilor and two terms as a member of the New Hampshire House of Representatives. In addition to his career in public service, Senator D'Allesandro enjoyed professional success in education. He holds honorary doctorate degrees from Franklin Pierce University, Daniel Webster College, and the New Hampshire Institute of Art. He also holds degrees from the University of New Hampshire, Rivier University, New England College, and the New Hampshire Institute of Art. Senator D'Allesandro served as the CSG 2019 National Chair. He and his wife, Patricia, currently reside in Manchester.
Read More
COVID-19 Health and Safety
CSG East is committed to providing a safe and healthy environment for all 2022 Annual Meeting participants and staff. Although the rates of COVID-19 may be declining in some areas at the time of this meeting, it is still a major health concern especially as our participants will be traveling from states and territories where transmission risk may be higher. To reduce the risk of becoming infected or spreading infection, we are recommending that all attendees, unless contraindicated, be fully vaccinated including boosters if eligible. In addition, masking is strongly recommended regardless of vaccine status when: 1) indoors except when eating, drinking, or presenting; 2) outdoors in groups when physical distancing is not possible. Physical distancing, especially when unmasked or indoors, is another important safety measure. Special care should be taken by those at higher risk or those caring for young children or more vulnerable adults.
2022 Meeting Book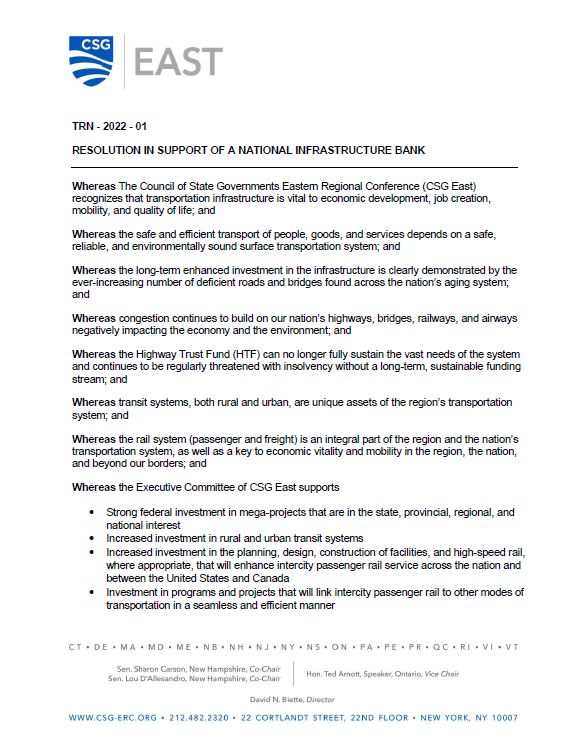 Transportation Resolution in Support of a National Infrastructure Bank